Straw Bales
Straw bales can be used either as load-bearing structure and insulation or just as insulation filled in around a post-and-beam structure. The basic strawbale construction process is fairly simple; bales are stacked and then covered with plaster and/or stucco. The thickness of straw bales makes them excellent insulation, and the straw is usually inexpensive.
Advantages of strawbale construction:
Straw, a byproduct of food production, is a renewable resource that will be discarded less often as waste if used more for houses and other purposes.
Unlike hay, straw contains very little food value to attract pests. Straw bales are also too dense to allow pests to move around inside them and make homes.
Strawbale houses can be built by the homeowner without highly specialized skills or expensive equipment.
The density of straw bales make them slow to ignite, and plaster-covered straw bales are more than twice as resistant to fire as conventional framing.
Straw bale houses have high resistance against wind damage and earthquakes.
Straw is available in most local areas, thus reducing wasted energy and cost to transport it.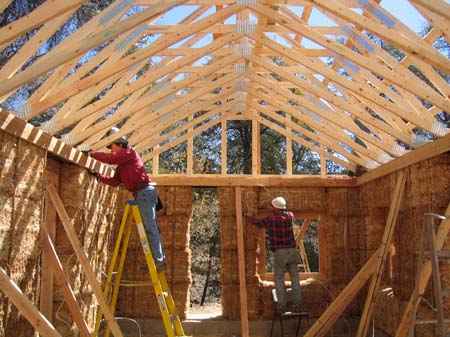 While straw is much more resistant to pests, fire, and compression than people expect, it is vulnerable to moisture, and great care must be taken to keep water out, especially along the foundation, around windows and doors, and along the tops of the walls. The plaster or stucco coating must be applied thoroughly, and plumbing should be run outside the bales. As long as the straw's moisture content is kept below 20%, it will not decompose, and it should last almost indefinitely.
The thickness and texture of strawbale walls gives a house unusual aesthetic qualities that can be carried throughout the interior design.
For much more information on strawbale building, see The Canelo Project.